- The drink of the gods -
The finest wines in Greece are within your reach. Experience authentic Greek sights, smells, and flavors on an Greece wine tour.
A wine tour is a superb way to explore and discover Greece and learn about the history and beauty of wine making. Wine tasting sessions will enthrall wine lovers, and the landscapes of the wineries will awaken visitors' imaginations. People will have the joy of discovering how wine is produced starting from the grape vine in field. To tour a wine region is truly a unique and beautiful experience.
Wine tours are very popular in Greece wine region for instance, where it is possible to enjoy wine tasting tours by bus, by car, following a bike ride, hiking, or even being driven by a limousine service.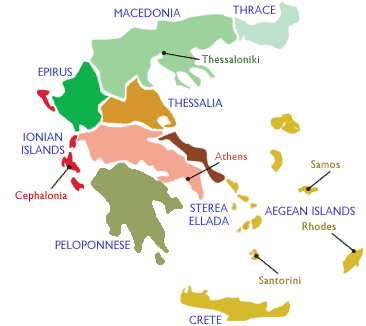 Many wineries are located in rural areas of Greece and make excellent places for holidays. The calm, rural atmosphere presents an ideal escape from urban life, either for a vacation or simply an enjoyable day in the country.
Besides providing an escape from the city, a stay at a winery offers opportunities to experience a sample of vineyard life first-hand. Most wineries have their wines available for tasting, and many offer full dining facilities. The tastings were traditionally complimentary; however, as wine appreciation grows, more and more wineries charge a small fee that allows them to make a wider range available for tasting.
Today, many wineries offer guided tours of their facilities. Varying from an hour to half a day, tours are generally concluded with wine tastings.
Vineyard tours offer visitors a chance to learn about the wine making process, and have additional benefits for the wineries. The publicity value offsets the cost of visitors, making most tours a tremendous value.
Wine is a product of nature, directly linked to the land and at the same time it is the favorite subject of many wine aficionados. This combination can make wine the main focus of alternative tourism since a complex system for attracting and servicing tourists can be built around it.
Wine Routes are the main component of Wine Tourism. These are specified courses that tourists and wine-lovers can follow, alone or in groups to visit vineyards, wineries, wine outlets which offer other local products as well, selected restaurants and hotels and combine all this with local sightseeing.
In the wineries a visitor can taste and buy wine usually at lower prices, can be informed about the selections offered, can get to know the region where the grapes are grown, meet the vintners and understand their philosophy. At the local restaurants the visitor can taste local dishes in combination with the local wine and at the stores one can buy local products.
Since vineyards are usually situated in beautiful places sometimes adjacent to rivers, lakes, the sea or at the foothills of beautiful mountains, wine tourism gives the opportunity to the visitor to enjoy nature and participate in other activities.
Organic cultivation is increasingly developing in the vineyard as is the case with other agricultural produce as well. Doing away with chemical pesticides and fertilizers is counteracted by natural means in order to protect the grapevine. Use of natural fertilizers (manure), the encouragement of weed growth, even the attraction of beneficial insects, such as ladybugs, are not simply practices towards natural cultivation. In the long run they contribute to the health and longevity of the vineyard while at the same time they provide the visitor with the 'clean' and 'natural' environment he is often seeking.
As wineries are becoming popular attractions for tourists, many different types of wine tours are now offered by many wineries around Greece.
Wine touring often includes experiencing the actual production of wine, however, they are often revolved around tasting the wine, as well. To allow everyone to participate in this aspect of touring, many different types of wine tours are being made available. These types of tours most generally include personal guides for the tours, as well as vary with their modes of transportation. Some of the various tours with different modes of transportation include:
Wine country bike tours are not only fun and relaxing, but they also give us the chance to really experience all of the natural beauty Greece wine county has to offer.
There are many factors you should take into consideration when you are thinking about going on a Greece bike tour including: terrain type, type of lodging, length of tour…
If you have never been on any bike wine tours prior, you should probably choose a tour where you will be riding on overall easy terrain. If you are a more experienced bicyclist, or are familiar with cycling in the wineries, you may want to select a tour with more moderate terrain. Tours are available on terrains perfect for anyone.
Lodging including in bike wine tour packages widely vary. Packages are available with accommodations in elegant inns for those who want to pamper themselves during their trip, as well as camping packages available, for those wanting to really experience the beauty of wine country. Whether you want to order room service, or whether you want to cook your food over the camp fire, a package is available for you.
Finally, when you are planning bike wine tours, you should take into consideration the length of the tour. Not only should you consider the overall length of the tour, but how long you will be riding per day, as well. In doing so you will prevent yourself from becoming overwhelmed during the tour, and having to get off and push your bicycle. Most companies offering the tours will gladly tell you how far you will be expected to cycle per day. There are bike wine tours that are the perfect length for all types of bicyclists, from beginners to experts.
If you are looking for a way to enjoy wine county, bike wine tours are a perfect solution. There are so many options available with bike wine tours, there is one to fit the needs of every person wanting to explore the wineries of Greece.
Explore and Enjoy Greece!
If you and a group of wine lovers friends are looking for the perfect vacation getaway, a bus wine tour could be the perfect solution. Buses are available in all sizes and models, and some tour buses can even comfortably service up to 48 people during the wine tour. The following paragraphs will discuss the benefits and options associated with a bus wine tour.
Depending on the size of your group, there are buses that will be perfect for you wine county visit. With air condition, comfortable seats, plenty of room to stretch your legs, and a knowledgeable guide to tell you what you are seeing. There are smaller buses available for smaller groups, and larger buses which are available for up to 48 people on average.
When you take a guided bus tour, the bus will stop at all the wineries on the itinerary in order to give the occupants the opportunity to tour these wineries, participate in wine sampling activities, attend seminars, or listen to guest speakers. There is so much to do at most wineries, these stops are welcome, and give you and your group the chance to really experience wine country, as well as just seeing it.
Gourmet food is often available at most wineries for an additional cost, as well as meals can be provided on the bus, included in the cost of the tour. In some cases, a bus wine tour can include taking your group to the finest gourmet restaurants available. No matter how you desire to dine, a package is available to match your desires perfectly.
A bus wine tour can be custom designed to fit each one of your individual desires, or the overall desires of your group ideally. Your group size does not matter, nor do your dining preferences, tour preferences, or any other option you may want to choose for your tour. Before you make any final decisions on a bus wine tour, do your research, and make sure no question goes unanswered.
Train wine tours are becoming very popular among tourists, especially older tourists, and those with children. There are many options associated with train wine tours, to help accommodate the needs, as well as desires, of anyone!
When people visit wine county, they are often compelled to schedule a wine tour. Train wine tours are becoming very popular among tourists, especially older tourists, and those with children. There are many options associated with train wine tours, to help accommodate the needs, as well as desires, of anyone! The following paragraphs will discuss train wine tours including some benefits, and some of the different options available.
There are many benefits associated with taking train wine tours. As opposed to riding a bike or hiking, you can relax in the comfort of a train to do your touring. You can be dropped off at any winery on the itinerary, and be picked back up at a set time. Or you can opt to stay on the train, making train wine tours ideal for tourists traveling with children, or for tourists who tire easily.
Wineries are not the only stops associated with train tours. Many times during the tour by train, you will get to experience going over the famous bridges, such as the Rio Antirio Bridge, as well as the Corinth Canal Bridge. Not only is this a memorable experience, but also an exciting experience for all!
Most generally, a train tour will be an all day excursion. Most begin sometime within the morning hours, and last up to 9 hours in duration. For tourists who do not choose to be dropped off at any of the different wineries on route, there are activities aboard the train, and all passengers are commonly encouraged to explore the train. It does not matter if you choose to tour the wineries from the train, or off the train, your experience on train wine tours will be unforgettable.
Train wine tours are the perfect idea for anyone touring wine country! Packages are available to accommodate any need or desire! Do your research before booking train wine tours, and make sure any questions you may have are answered. Touring wine country by train can be an experience that is delightful for anyone.
Taking a tour of a winery is an unbelievable experience in itself, so just imagine the excitement of a private wine tour. Whether you are a seasoned connoisseur, or if you are taking your first tour, a private wine tour can be your most exciting option. The following paragraphs will discuss the different types of private wine tours, as well as some of the advantages.
When you are trying to decide on a private wine tour, there are several types you can consider. These types of tours include:
private limousine tours
private bus tours
private foot/bike tours
Since tasting the wine is often a valued part of touring, a private wine tour not only provide a knowledgeable guide, but transportation will, also, often be provided. This enables everyone in your group to be able to participate in the wine tasting, and have a glass of wine with their meal. A private wine tour is, by far, the safest method to taste and tour wineries. Transportation ranges from luxurious limousines to buses for larger groups. Town cars, vans, and jeeps are also popular modes of transportation people chose for their private tour. When you choose a private tour, transportation is provided for during the entire duration of the tour.
Bike and feet tours can also be private, as well as guided. These packages most commonly include sleeping accommodations, ranging from luxurious inns to primitive camping. Depending on your individual wishes, a private wine tour is available to suit you.
If you tire easily, or are accustomed to a soft, comfortable bed, a camping excursion may not be the ideal tour. However, if you enjoy the beauty of the outdoors, you may want to consider a bike or foot wine tour. If you are touring with children, or the elderly, a guided tour with a driver may be the best choice. Consider all of your private wine tour options before making any final decisions.
With the popularity of touring wineries growing, cruise lines are developing a wine cruise to accommodate wine enthusiasts all over the world. The most common itineraries combine all the luxuries of an sea cruise with visits to wineries and vineyards all over the Greece, some that are not easily accessible except by boat. The following paragraphs will discuss the different options commonly available on a wine cruise.
Wine country cruises are available to suit anyone from the first time cruiser, to a wine connoisseur. Most cruise lines offer personalized itineraries, to meet the needs of the individual person or group of people with similar interest levels. There are personal guides available for wine tours at each Greek port. Transportation is often included, to enable everybody to participate in the wine tasting. Food is often available off ship, as well as on ship, and can range from a picnic at a winery to a 5 course meal at a luxurious restaurant. This is not to mention all of the onshore activities, such as winery tours, wine tasting activities, seminars with wine experts, and more.
On the other hand, some people who take a wine cruise never leave the boat. On a wine cruise, there are normally on board wine instructors, to help commentate what you are seeing on your cruise. Guest speakers are often scheduled, as well as activities revolved around wine.
Other options available on most luxury wine cruises include: spas, exercise facilities, dining areas ranging in food choices, extensive wine cellars, pools, internet Cafes, libraries and more!
Everything you need to make for a great cruise is on board with a wine cruise, with the added bonus of wineries at your port stops. There is never the need to leave the boat, unless you want to tour some of the wineries first hand. This helps entertain everyone in your group, by providing a host of activities to meet everyone's desires.
A wine cruise is a memorable and relaxing way for wine lovers of all levels to vacation. Before you book a wine cruise, do your research. Be sure to make sure you are aware of all the options available to you on a wine cruise before you book it.