- The drink of the gods -
Main Greek Wine Varieties
Native grape varieties are cultivated in Greece along with the 'international' varieties.
Native varieties are used for the production of white wines, and the regions they are cultivated are:
Athiri (Aegean islands – mainly Rhodes and Macedonia), Assyrtico (mainly in Santorini, but also in Macedonia, Peloponnese etc.), Vilana (Crete), Malagousia (mainly in Macedonia), Muscat (in Samos, Rhodes, Cephalonia, Patras-Rio, Limnos), Moschofilero (in the Peloponnese-Arcadia, Messinia, etc.), Debina (in Zitsa, Ionannina), Roditis (almost everywhere in the mainland), Robola (in Cephalonia and some parts of the mainland), Savatiano (mainly in central Greece, Attica, Veotia etc.)
For red wine the native varieties are:
Aghiorghitiko (mainly in Nemea-Peloponese), Kotsifali (in Crete), Limnio or Kalambaki (mainly in Macedonia-Chalkidiki and in Limnos from where it originated), Mandelari or Mandelaria or Amorgiano (mainly in the Aegean islands of Paros, Santorini, Rhodes, Crete, but also in the rest of Greece), Mavrodapne (in the Peloponnese: Achaia, in Cephalonia etc.) Xynimavro (in Macedonia: Naousa, Amyntaio and Goumenissa and in Thessaly).
The international varieties that are widely cultivated in Greece are:
Chardonnay and Sauvignon Blanc mainly, but also Gew u rztraminer, Riesling, Semillorn, Trebbiano, Viognier (white), and Cabernet Sauvignon, Merlot, Syrah (red).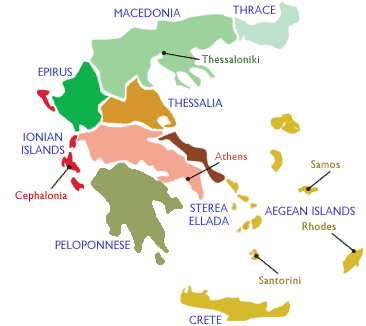 Macedonia and Thrace have been known for their wines since antiquity.  There are four wine-making regions in Macedonia : Naoussa, Amindaion , Goumenissa and Cotes de Meliton. The Naoussa vineyards on the slopes of Mount Vermio are some of the most beautiful in Greece, famous for its red wines.  Amindaion produes light reds and rose wines. Goumenissa produes dry, red wines.
Macedonia & Thrace (Aghio Oros, Agios Pavlos, Amyntaio, Goumenissa, Drama, Epanomi, Kavala, Naousa, Pella , Plagies Melitona, Chalkidiki)
Wine-growing area: 15,500 ha (hectares)
Wine production: 514,760 hl (hectoliters)
Varieties: * Asyrtiko, * Athiri, * Roditis, * Limnio, * Xinomavro, * Negoska, * Cabernet Sauvignon, * Cabernet Franc.
This is the most important wine-region in Greece. The quality varies, but there are always excellent dessert wines. In Nemea 'Hercules' Blood', the spicy red wine, is produced. The Peloponnisos is the largest wine growing region in Greece . Patras, where Lord Byron died, is famous for the Muscat of Patras and the sweet red Mavrodaphne . Nemea's vineyard is famous for its ' Blood of Hercules ' made from the agiorghitiko grape, which will grow nowhere else.
Climate: Temperate with frequent rainfall during the winter
Aigio, Argos , Achaia, Corinthia, Mantinia, Messinia, Nemea
Wine-growing area: 60,419 ha (hectares)
Wine production: 1,525,590 hl (hectoliters)
Varieties: * Agiorgitiko, * Corinthian (raisin), * Moschato white, * Moschofilero, * Refosco, * Roditis, * Sultanina (raisin).
The most famous vineyards in Thessaly are in Rapsani, on the slopes of Mount Olympus  and produes red wines from the Xynomavro, Stavroto and Krasato grapes .
Climate: Continental with frequent rainfall all year long
Thessaly (Agchialos, Krania, Mesenikola, Rapsani, Tirnavos
Thrace : Maronia)
Wine area: 8,696 ha (ha
Wine production: 423.910 hl (hectoliters)
Varieties: * Krasato, * Black Mesenicola, * Muscat Hamburg, * Batik, * Xinomavro, * Cross.
Corfu is the main island for making wine, followed by Zákinthos, Lefkas and Kefalonnia. Strengthened red wines dominate, but also quality white wines are produced.
Ionian Sea Islands (Zakinthos, Corfu , Cephalonia)
Wine-growing area: 8,716 ha (hectares)
Wine production: 215,840 hl (hl)
Varieties: * Verzami, * Mavrodaphne, * Moschato white, * Robollas.
Known for ages for its sweet Muscat wines, Samos is one of the first appellations. It is, together with the Retsina the most famous wine, and is exported in large amounts.
Aegean Sea Islands (Crete , Limnos , Paros , Rhodes , Samos , Santorini)
Wine-growing area: 9.131ha (hectares)
Wine production: 151,300 hl (hectoliters)
Varieties: * Adiani, * Asyrtiko, * Limnio, * Mandilaria, * Monemvasia, * Moschato of Alexandria.
The vineyards were established by the crusaders. Together with those from Crete, the grapes grown here make excellent bold wines. There are some regional tourist-wines, and excellent red strengthens wines of the Solera vines.
Dodecanese Islands
Wine-growing area: 3,438 ha (hectares)
Wine production: 128,850 hl (hl)
Varieties: * Athiri, * Mandilaria, * Moschato white.