- The drink of the gods -
Main Greek Wine Producers
Native grape varieties are cultivated in Greece along with the 'international' varieties.
Native varieties are used for the production of white wines, and the regions they are cultivated are:
Athiri (Aegean islands – mainly Rhodes and Macedonia), Assyrtico (mainly in Santorini, but also in Macedonia, Peloponnese etc.), Vilana (Crete), Malagousia (mainly in Macedonia), Muscat (in Samos, Rhodes, Cephalonia, Patras-Rio, Limnos), Moschofilero (in the Peloponnese-Arcadia, Messinia, etc.), Debina (in Zitsa, Ionannina), Roditis (almost everywhere in the mainland), Robola (in Cephalonia and some parts of the mainland), Savatiano (mainly in central Greece, Attica, Veotia etc.)
For red wine the native varieties are:
Aghiorghitiko (mainly in Nemea-Peloponese), Kotsifali (in Crete), Limnio or Kalambaki (mainly in Macedonia-Chalkidiki and in Limnos from where it originated), Mandelari or Mandelaria or Amorgiano (mainly in the Aegean islands of Paros, Santorini, Rhodes, Crete, but also in the rest of Greece), Mavrodapne (in the Peloponnese: Achaia, in Cephalonia etc.) Xynimavro (in Macedonia: Naousa, Amyntaio and Goumenissa and in Thessaly).
The international varieties that are widely cultivated in Greece are:
Chardonnay and Sauvignon Blanc mainly, but also Gew u rztraminer, Riesling, Semillorn, Trebbiano, Viognier (white), and Cabernet Sauvignon, Merlot, Syrah (red).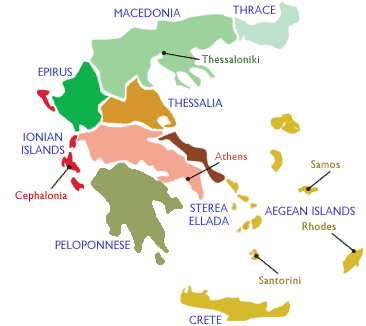 In the heart of the remote AOC region of Amynteon, the Bordeaux trained winemaker, Angelos Iatridis, chose to plant his vineyards, combining classical tradition with modern innovation. The combination of vineyards with northern exposure, sandy clay soils, ideal climatic conditions and Iatridis' proven winemaking skills have given birth to cutting-edge wines produced from both indigenous and international grape varieties.
Winery:
Nymfeo – Florina
Tel/Fax: +30 23860 24077
Fax: +30 2310 476244
e- mail: [email protected]
www.alpha-estate.gr
In Epanomi, only a few miles southwest of the charming city of Thessaloniki, the Bordeaux trained Evangelos Gerovassiliou built his state-of-the-art winery. The mild local climate, close proximity to the sea and sandy clay soils bring out the best qualities in the grapes grown here which produce a range of world class wines.
Winery:
57500 Epanomi
Tel: +30 23920 44567
Fax: +30 23920 44560
e-mail: [email protected]
www.gerovassiliou.gr
At the point where the lush slopes of Mount Meliton on the western coast of Halkidiki, flow gently into the clear waters of the Gulf of Torone, we find the 475 hectares of the spectacularly terraced Domaine Porto Carras vineyards which make up one of the largest and most picturesque vineyards in all of Europe. The first plantings began in 1967 with the assistance of the famous French Professor Emile Peynaud and in 1981 the area was granted the AOC designation, Côtes de Meliton, for the production of distinctive white and red wines.
Athens Headquarters
20 Solomou Str.,
174 56 Alimos,
Athens – Greece
Tel: +30 210 9949809
Fax: +30 210 9949457
e-mail: [email protected]
www.portocarraswines.gr
Winery
Neos Marmaras
630 81 Halkidiki
Macedonia – Greece
Tel: +30 23750 77000
Fax: +30 23750 71229
US Importer
Athenee Importers
P.O.Box 2039
Hampstead NY 11551
Tel: 516 5054800
Yiannis Boutaris created the first Estate vineyard in Yianakohori in the late 1960's spearheading the revival of the Naoussa Appellation. In 1996 he left the Boutari Company, retaining the well tended vineyards of Yianakohori and Amyndaio, to establish his new company, Ktima Kir Yianni. His two sons, Stelios and Michalis, both US college graduates, are an integral part of the family business in charge of the day-to-day operations.
Winery:
Yianakohori 592 00,
Naoussa, Imathia
Tel/Fax: +30 23320 51100
www.kiryianni.gr
Athens Offices:
57 Agias Varvaras Str.
152 31 Athens
Tel: +30 210 6716050
Fax: +30 210 6716189
e-mail: [email protected]
Thessaloniki Offices:
3 Victoros Hugo Str.
546 25 Thessaloniki
Tel: +30 2310 520650
Fax: +30 2310 524430
US Importer
Sotiris Bafitis Selections
1810 Ingleside Terrace NW
Suite 3
Washington DC 20010
Phone: 202-483-5436
www.sotirisbafitisselections.com
In the foothills of Mount Falakro near the city of Drama, the fast rising star,"Ktima Pavlidis" was established in 1998 by the dynamic, Cristophoros Pavlidis. The 30 hectare vineyards include a mixture of indigenous and international varieties planted in calcareous soils, which promotes the production of wines with a refined taste and unique identity.
Winery
Kokkinogeia 66100 Drama
Macedonia – Greece
Tel: +30 25210 58300
e-mail: [email protected]
www.ktima-pavlidis.gr
US Importer
Athenee Importers
P.O.Box 2039
Hampstead NY 11551
Tel: 516 5054800
The vineyards surrounding the Metohi of Chromitsa, property of the St. Panteleimon Monastery and under cultivation by Evangelos Tsantalis SA, extend across an area of 80 hectares along the terraced slopes of Mount Athos. These vineyards, isolated from other agricultural areas, provide ideal conditions for the practice of organic farming. In this unique ecosystem, world-class wines are produced from a careful selection of indigenous and international grapes.
Winery
Mount Athos Vineyards – E.Tsantali Wines
630 80 Agios Pavlos Halkidiki
Tel: +30 23990 76100
e-mail: [email protected]
www.tsantali.gr
US Importer
Fantis Foods
60 Triangle Blvd
NJ 07072
Tel: 201 9336200
Wine has been made on Crete since Minoan times and is renown for its powerful red wines .
Crete
Wine area: 50.581ha (hectares)
Wine production: 959.480 hl (hectoliters)
Varieties: * Vilana, * Kotsifali, * Liatiko, * Mantilaria, * Romheiko.
With easy access, high mountains, stunning and award-winning beaches, remarkable countryside villages and a green hinterland, Lefkada gains a distinct position among the most popular summer destinations of the Ionian Sea and beyond. Here you will find organized beaches, bustling nightlife resorts, lively anchorages with dozens of recreational craft. It has impressive coasts with white sand and clear blue waters, the most famous of which are Porto Katsiki, Egremni and Kathisma.

Police
    Lefkada 2645 0 29375
    Vasiliki 2645 0 31218
    Karya 2645 0 41208
    Vlychos 2645 0 95207
    Tourist Police of Lefkada 2645 0 29379
Port Authorities
    Port Authority of Lefkada 2645 0 22322
    Nydri Port Authority 2645 0 92509
Other useful services
    Post Office 2645 0 24225
    OTE 2645 0 2118
    Fire Department 2645 0 22199
    Tourist Information 2645 0 23000
    Archaeological Museum 2645 0 23678
    Olympic Airlines 2645 0 22881
    KTEL 2645 0 22364
    Taxi 2645 0 22218
Municipalities
    Lefkada 2645 0 23354
    Karya 2645 0 41213
    Apollonia 2645 0 31131
Hospitals-First Aid
    Lefkada Hospital 2645 0 25371
    Health Center of Lefkada 2645 0 31065
    Health Center of Vlychou 2645 0 95204
    Vassiliki Health Center 2645 0 31065
    Health Center of Nydri 2645 0 92228
Like all the Ionian islands, Lefkada, thanks to its climate, has a large production of excellent quality agricultural products: olive oil, citrus, thyme honey, grapes and excellent quality wines. As for wine, what is produced by the Vartsami variety is considered one of the best in Greece. In addition to wine, you can taste some of the aromatic liqueurs such as Rosol, Mint and Rose, as well as non-alcoholic beverages from bitter almonds, cuma.
The cuisine of Lefkada does not differ from traditional Mediterranean cuisine but has some particular features from Venetian cuisine, as is the case in all the Ionian islands, which have been for years under the Venetian rule. So, you can try a great variety of seafood and meat dishes as well as delicious desserts. More specifically, try:
    Sausages, especially spicy.
    Saboros: fish cooked with garlic, onion and rosemary.
    Aliada, a seafood dish with fresh fish.
    Sweet snacks: mandolato and pastelli.
    Traditional oil house.
Of course, you can also find every taste of traditional Greek cuisine, mezedes or main dishes: tzatziki, moussaka, shrimp salad, calamarias, stew, souvlaki and round. Lefkada's options are too many and you can find ouzeries, taverns, fish taverns, luxury restaurants.
Beaches worth visiting in Lefkada
Porto Katsiki
It is the most popular beach in Lefkada and is located on the southwest coast of the island, 40 km from the capital. It has often been described as the best beach in Greece and attracts a lot of people during the summer. It is a sandy beach with crystal clear waters, surrounded by rocks, accessible by 80 steps. You can either go by car and leave it on top of the hill, either by boat from the port of Nydri or from Basilica.
Katisma
Kathisma beach is located on the east coast of the island, 14 km from the capital. It is an exotic beach, with white sand, turquoise water and one of the most beloved on the island. It is well organized with sun loungers, umbrellas and sports activities.
Nydri
In Nidri village, you can visit the homonymous beach, offering all sorts of amenities for guests. There are many hotels, bars and restaurants, as well as water activities. It is one of the most cosmopolitan beaches on the eastern coast, 17 km from the capital. The beach is ideal for sunbathing or swimming in the clear waters.
Vassiliki
You will find it south of the capital, at a distance of 38 kilometers in the village of Vasiliki. It is well known to windsurfers, who prefer it because of favorable winds. There are windsurfing and sailing clubs that offer equipment and training to those interested. The beach is unique, with pebbles and is ideal for people of all ages. In the area you can find many accommodations, bars, restaurants and shops.
'St. John – Agios Ioanis
If you prefer more quietness and you do not want cosmic beaches, choose the beach of Agios Ioannis, which is just 2 km from the capital. It is an exotic coast with turquoise waters and fine sand. It is the second most popular coast for windsurfing and kite surfing.
Agios Nikitas
The small, picturesque beach of Agios Nikitas is located in the homonymous village, 12 km west of the capital. You will be enchanted by the beauty of the site and you can eat fresh fish in one of the fish taverns on the coast.
Egremni
It is another steep but beautiful beach in Lefkada. It is located between hills and is only accessible by descending the 250 steps that connect it to the top of the hill. Due to its location it is very quiet, without a lot of people and is suitable for family getaways. You can rent umbrellas and sun loungers. It is located on the west coast at a distance of 30 kilometers from the center of the island and is definitely worth a visit.
Peukoulia
It is also an equally popular beach, near the village of Agios Nikitas, on the west coast. It is bustling because it is one of the most beautiful beaches, with crystal clear waters, which are ideal for swimming.