- The drink of the gods -
Main Greek Wine Producers
Native grape varieties are cultivated in Greece along with the 'international' varieties.
Native varieties are used for the production of white wines, and the regions they are cultivated are:
Athiri (Aegean islands – mainly Rhodes and Macedonia), Assyrtico (mainly in Santorini, but also in Macedonia, Peloponnese etc.), Vilana (Crete), Malagousia (mainly in Macedonia), Muscat (in Samos, Rhodes, Cephalonia, Patras-Rio, Limnos), Moschofilero (in the Peloponnese-Arcadia, Messinia, etc.), Debina (in Zitsa, Ionannina), Roditis (almost everywhere in the mainland), Robola (in Cephalonia and some parts of the mainland), Savatiano (mainly in central Greece, Attica, Veotia etc.)
For red wine the native varieties are:
Aghiorghitiko (mainly in Nemea-Peloponese), Kotsifali (in Crete), Limnio or Kalambaki (mainly in Macedonia-Chalkidiki and in Limnos from where it originated), Mandelari or Mandelaria or Amorgiano (mainly in the Aegean islands of Paros, Santorini, Rhodes, Crete, but also in the rest of Greece), Mavrodapne (in the Peloponnese: Achaia, in Cephalonia etc.) Xynimavro (in Macedonia: Naousa, Amyntaio and Goumenissa and in Thessaly).
The international varieties that are widely cultivated in Greece are:
Chardonnay and Sauvignon Blanc mainly, but also Gew u rztraminer, Riesling, Semillorn, Trebbiano, Viognier (white), and Cabernet Sauvignon, Merlot, Syrah (red).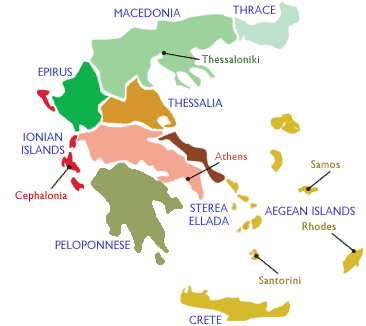 The island of Samos, whose history of wine culture dates back to the third millennium B.C., gained an unparalleled and long-lasting international reputation for its sweet Muscat wines that began in the 1600's. Now entering its fifth millennium of wine production, the island's wines are as outstanding and fabulously delicious today as they were in the time of the Renaissance.
Wine and History on Samos
Samos island has a splendid history that is inextricably linked with its vineyards. Wine jugs, or amphorae, dating back to 2800 B.C. have been unearthed on Samos -beyond that, however, the island's early history is quite literally shrouded in myth. Local legend holds that vines were first brought to the island by one of the Argonauts, who taught the residents the art of winegrowing and stayed around to marry Samia, daughter of the island's king.
If one subscribes to the simplest explanation rather than the most romantic, however, one might be more likely to believe that the first grapevines planted on Samos were simply carried across the narrow strait from Turkey, in those days Asia Minor. That is almost certainly how Samos Muscat arrived on the island.
Samos Island: Synonymous with Muscat
Although many other grape varieties have grown on Samos over many hundreds of years, the island and the Muscat of Samos grape have become nearly synonymous in modern times. European writers had documented the existence of the Moscato Aspro, or Muscat of Samos grape, on the island by 1678 -however, it is likely that Muscat vines grew there many years prior to that date. The reason European writers cared about it at all is because Muscat of Samos had by that time already become one of Europe's true wine sensations.
France's Influence on the Island's Winegrowers
Like many popular entities, the grape growers of Samos had an intense, love-hate relationship with their European fans. As Samian wine became more and more popular in their country, French wine merchants sought to insinuate themselves into the chain of production, both to maximize their own profits and to ensure the both the quality and quantity of wine production for their thirsty markets.
In some ways, French involvement on the island was benevolent: for example, the French were instrumental in the construction of Samos' spectacular vineyard terrace system, which extends far up Samos' steep hillsides and allows for grapes to be grown in the island's higher, cooler elevations. However, when France's vineyards were perishing of phylloxera, the French took Muscat cuttings from the island -virtually all the Muscat vines planted in France are believed to come from Samos–and it was likely the French themselves who brought the same pest back to Samos, wreaking havoc on growers there. It of course is worth mentioning that in 1956, Samos was granted a French appellation designation, the only one outside of France today.
Samos Takes Control of its Destiny
Ultimately, it was efforts to stem France's influence on Samos that propelled the island winery into the modern age and put her in charge of her own destiny. During the time period between the two World Wars, wine glut conditions existed in Europe, and prices for Samos Muscat fell far below sustainable levels.
In 1934, in an effort to preserve the highly desirable -and historically profitable- nature of the island's wines, and wrest control from the French who monopolized their distribution, the Greek government issued a presidential mandate decreeing that all wine carrying the name of Samos would henceforth be produced from Muscat exclusively, that vineyard acreage would be limited, and that Samos Muscat would be produced by a locally run co-operative of growers who would buy all the fruit produced on the island. Muscat, which was already the life-blood of Samos' winegrowers, became her only commercially viable varietal.
Today, ninety-eight percent of all vines planted on Samos are Muscat of Samos. And France, still Samos' largest customer, no longer exerts a stranglehold over the island's wine industry.
Thanks to the breakaway Super Tuscan movement in Italy in the 1970's and the formation of the Meritage Society in California, appellation designation has become less essential in recent times: an appellation is no longer the only way of assuring one's potential customer of a wine's quality. Although sweet, traditional, appellation marked Samos Muscat still enjoys bona fide celebrity status in countries throughout Europe, the winery now also produces contemporary dry table wines made from its Muscat that command attention amongst fine Italian Pinot Grigios and the dry wines of the Alsace region.
Until recently, Samos had a gaping hole in its circle of influence: the US market. After a fashion, Samos wines have been available in the US from importers who adhered, technically at least, to EU appellation law, purchasing wine from the island and putting the name Samos on their labels. Now, however, in partnership with Trireme Imports and represented by a family whose roots still run deep in Samos, the winery has taken back control over its destiny, much as it did from France in the early twentieth century.
In 1934 a Greek presidential mandate decreed that only wine made from the

Muscat of Samos

grape and in certain styles could carry the Samos name. This mandate was put in place to ensure protection for what many considered to be Greece's most highly regarded (and most exportable) wines, and is thought to be an early precursor to the contemporary Greek appellation system.
In 1956 French law was written which specifically allowed

Samos

to sell its wines in France under the

"Superior Quality"

designation, a privilege normally reserved only for French wine.

Samos

therefore became the only French appellation outside of France.
In the late 1950's early references to Greece's entry into the EU specifically mentioned

Samos

island and her wines.
The UWC Samos is one of the oldest cooperatives in Greece and it is included in one of the biggest wineries nationally! Samos wine is one of the basic Greek wine ambassadors abroad, with exports all over the world. Nowadays, 2.200 producers participate in the Cooperative as members.
United Winemaking Agricultural Cooperative of Samos,
Malagari, 83100, Samos
Blog: samiaampelos.gr
FB: ΕΟΣ Σάμου / UWC Samos
Secretary:
Phone:22730-87510
Fax. 22730.23907
Sales:
Phone: 694 0273831
22730 87510, εσωτ. 539
Exportation Sales:
Phone: 22730 87510, εσωτ. 537
Marketing
Phone: 22730 87510 εσωτ. 539, 538
http://samoswine.gr/en/
e-mail: [email protected]
The Emery winery, still one of the largest in Greece, was built in 1974 in the village of Embona at an altitude of 700m. The vineyards are cultivated on the northwesterly slopes of Mount Attaviros, celebrated for the quality of their Athiri and Amorgiano (Mandilaria) grapes, indigenous varieties known for their characteristically low yields. Decades of collaboration with local vine growers from the region, coupled with Emery's expertise and commitment, have enabled them to build a distinctive range of quality wines from these unique Greek varietal grapes, many grown since ancient times.
Winery:
Afstralias 28 & Kolokotroni Str.
851 00 Rhodes
Tel: +30 210 6844336
e-mail: [email protected]
www.emery.gr
US Importer
Athena Importing
31-36 44th Str.
Astoria
NY 11103
Tel: 917 8341476
Not far from the famous archaeological site of Knossos, near the village of Skalani, lies the Fantaxometocho Estate ("haunted cottage"), the most southern of the Boutari estate vineyards. The clay and limestone soils, exceptional Cretan climate and close proximity to the sea combine to bring out the finest qualities of the indigenous and international grape varieties cultivated on the estate. The estate's new cutting edge winery is one of the most modern in Europe producing wines worthy of the island's ancient wine-making tradition.
Boutari – Fantaxometocho Estate
Paterno Wines International
900 Armour Drive
Lake Bluff IL 60044
Tel: 847 6045781
Fax: 847 6045828
e-mail: [email protected]
Wine has been made on Crete since Minoan times and is renown for its powerful red wines .
Crete
Wine area: 50.581ha (hectares)
Wine production: 959.480 hl (hectoliters)
Varieties: * Vilana, * Kotsifali, * Liatiko, * Mantilaria, * Romheiko.
With easy access, high mountains, stunning and award-winning beaches, remarkable countryside villages and a green hinterland, Lefkada gains a distinct position among the most popular summer destinations of the Ionian Sea and beyond. Here you will find organized beaches, bustling nightlife resorts, lively anchorages with dozens of recreational craft. It has impressive coasts with white sand and clear blue waters, the most famous of which are Porto Katsiki, Egremni and Kathisma.

Police
    Lefkada 2645 0 29375
    Vasiliki 2645 0 31218
    Karya 2645 0 41208
    Vlychos 2645 0 95207
    Tourist Police of Lefkada 2645 0 29379
Port Authorities
    Port Authority of Lefkada 2645 0 22322
    Nydri Port Authority 2645 0 92509
Other useful services
    Post Office 2645 0 24225
    OTE 2645 0 2118
    Fire Department 2645 0 22199
    Tourist Information 2645 0 23000
    Archaeological Museum 2645 0 23678
    Olympic Airlines 2645 0 22881
    KTEL 2645 0 22364
    Taxi 2645 0 22218
Municipalities
    Lefkada 2645 0 23354
    Karya 2645 0 41213
    Apollonia 2645 0 31131
Hospitals-First Aid
    Lefkada Hospital 2645 0 25371
    Health Center of Lefkada 2645 0 31065
    Health Center of Vlychou 2645 0 95204
    Vassiliki Health Center 2645 0 31065
    Health Center of Nydri 2645 0 92228
Like all the Ionian islands, Lefkada, thanks to its climate, has a large production of excellent quality agricultural products: olive oil, citrus, thyme honey, grapes and excellent quality wines. As for wine, what is produced by the Vartsami variety is considered one of the best in Greece. In addition to wine, you can taste some of the aromatic liqueurs such as Rosol, Mint and Rose, as well as non-alcoholic beverages from bitter almonds, cuma.
The cuisine of Lefkada does not differ from traditional Mediterranean cuisine but has some particular features from Venetian cuisine, as is the case in all the Ionian islands, which have been for years under the Venetian rule. So, you can try a great variety of seafood and meat dishes as well as delicious desserts. More specifically, try:
    Sausages, especially spicy.
    Saboros: fish cooked with garlic, onion and rosemary.
    Aliada, a seafood dish with fresh fish.
    Sweet snacks: mandolato and pastelli.
    Traditional oil house.
Of course, you can also find every taste of traditional Greek cuisine, mezedes or main dishes: tzatziki, moussaka, shrimp salad, calamarias, stew, souvlaki and round. Lefkada's options are too many and you can find ouzeries, taverns, fish taverns, luxury restaurants.
Beaches worth visiting in Lefkada
Porto Katsiki
It is the most popular beach in Lefkada and is located on the southwest coast of the island, 40 km from the capital. It has often been described as the best beach in Greece and attracts a lot of people during the summer. It is a sandy beach with crystal clear waters, surrounded by rocks, accessible by 80 steps. You can either go by car and leave it on top of the hill, either by boat from the port of Nydri or from Basilica.
Katisma
Kathisma beach is located on the east coast of the island, 14 km from the capital. It is an exotic beach, with white sand, turquoise water and one of the most beloved on the island. It is well organized with sun loungers, umbrellas and sports activities.
Nydri
In Nidri village, you can visit the homonymous beach, offering all sorts of amenities for guests. There are many hotels, bars and restaurants, as well as water activities. It is one of the most cosmopolitan beaches on the eastern coast, 17 km from the capital. The beach is ideal for sunbathing or swimming in the clear waters.
Vassiliki
You will find it south of the capital, at a distance of 38 kilometers in the village of Vasiliki. It is well known to windsurfers, who prefer it because of favorable winds. There are windsurfing and sailing clubs that offer equipment and training to those interested. The beach is unique, with pebbles and is ideal for people of all ages. In the area you can find many accommodations, bars, restaurants and shops.
'St. John – Agios Ioanis
If you prefer more quietness and you do not want cosmic beaches, choose the beach of Agios Ioannis, which is just 2 km from the capital. It is an exotic coast with turquoise waters and fine sand. It is the second most popular coast for windsurfing and kite surfing.
Agios Nikitas
The small, picturesque beach of Agios Nikitas is located in the homonymous village, 12 km west of the capital. You will be enchanted by the beauty of the site and you can eat fresh fish in one of the fish taverns on the coast.
Egremni
It is another steep but beautiful beach in Lefkada. It is located between hills and is only accessible by descending the 250 steps that connect it to the top of the hill. Due to its location it is very quiet, without a lot of people and is suitable for family getaways. You can rent umbrellas and sun loungers. It is located on the west coast at a distance of 30 kilometers from the center of the island and is definitely worth a visit.
Peukoulia
It is also an equally popular beach, near the village of Agios Nikitas, on the west coast. It is bustling because it is one of the most beautiful beaches, with crystal clear waters, which are ideal for swimming.