Mykonos is known as the 'island of wind' and what the wind blows in is an eclectic, international mix of visitors, many of whom return year after year, that alone says a lot. There is a certain charm combined with an attitude that embraces everyone, from all walks of life. Many visitors say that Mykonos represents the freedom that they haven't found elsewhere. Come to experience the beautiful beaches (gay, family, nudity-tolerant, watersports or party), the incredible nightlife, the non-stop parties or just to relax on this Greek island that's like no other.
Mykonos is situated at the Northern part of the Cyclades, South to Tinos and North to Naxos, close enough to Pireaus. Its extent is 87 square km, the coastline 81,5 km approximately, and it counts more than 9000 permanent residents. Mykonos is one of the most beautiful islands in the Aegean Sea. It is one of the most popular tourist destinations in Greece as well. It's also the best summer destination for crazy fun! Featuring some of the best beaches of the Cyclades, some of Europe's finest restaurants and hotels, Mykonos is one of the top clubbing destinations in the Mediterranean, the hottest spot of celebrities and gay community.
The capital of the island, Mykonos (Chora), with its beautiful harbor where small fishing boats swing next to luxury yachts, is completely different from the majority of the Aegean islands.
Mykonos belongs to the group of the Cycladic islands, located in the center of the Aegean Sea. Mykonos Island is located south of Tinos, east of Syros and north of Paros and Naxos.
Mykonos, in general, is considered as a relatively small island. In case you want to leave your own car home you should know that transport is fairly organized and consistent on the island.
Mykonos Island, reached by air or sea, is located near the sacred islands of Delos and the lesser-known Rhenia, all part of the grouping of Greek islands known as the Cyclades. According to mythology, Delos is the birthplace of the god Apollo and his twin sister, Artemis. Daily trips to experience the ancient ruins of Delos are accessible from Mykonos.
The charming, unadorned, white cube Cycladic architecture with a plethora of traditional churches found on Mykonos is unique and picture-perfect. Mykonos Town, known as "hora", is a labyrinth of narrow, stone streets, that are lined with traditional houses and shops side by side with chic, designer label fashion boutiques and elegant jewelry stores draped in colorful flowers. The original plan of the maze-like design was to confuse invaders and help protect against pirates. Part of the fun is becoming "lost", strolling the streets to find the tucked-away shops, churches or art galleries, as the way out is always just around the corner.
In contrast to Mykonos Town is the village of Ano Mera, offering a taste of a more rural Greek life. Life moves a little slower here. This little village is home to the famous Tourliani monastery that has a beautiful little courtyard and bell tower. The town square (plateia), surrounded by traditional Greek tavernas shaded by trees, is center stage for village life. As the square is not visible when passing by on the main road, Ano Mera may look like nothing more than a wide spot in the road with a few shops but is worth a stopover to enjoy village hospitality.
Last, but not least, are the beaches of Mykonos! The possibilities of parties, sex, romance or relaxation are endless in a mix of sun, sea, and sand. The clear, multi-hued blue Aegean Sea, under the intensity of the Greek sun, with the sand beneath your feet, makes your senses come alive. You feel the power of life a little more. Each resplendent day offers something different. Find the way to your perfect beach and indulge your pleasures.
However you choose to spend your time on the island of Mykonos, one thing is certain, you will return home with lasting memories and the desire to return.
This amazingly pretty island offers all amenities of a modern resort with many activities for day and night. It is famous for its hectic nightlife and its golden sandy beaches. Low rocky hills, ending to crystal water beaches from the genuine mykonian landscape. Chora (Mykonos town), the capital of the island, is one of the best examples of the Cyclades architecture, with its paved narrow streets flanked by gleaming whitewashed houses, all with brightly painted window shutters and wooden balconies which ablaze with colorful geraniums and a variety of shops, tavernas, bars, and clubs, gives to the visitors the unique sensation of a film scenery. Ano Mera is the most important village after Chora offering accommodations, while some of the most frequented bays are Ornos, Platy Yialos, Aghios Ioannis and Super Paradise with sandy beaches lined with umbrellas and sun beds. The Island of Delos, located very near to Mykonos, is uninhabited but is one of the most important archaeological sites in Greece. It was once a thriving port and commercial center. Said to be the birthplace of Apollo, the Delian games were held here and the ruins of the city are quite extensive and well worth a visit, especially in the spring when wildflowers are in bloom.
According to Greek Mythology, the rocky formations of Mykonos are the exact spot where Hercules buried the Giants after his fierce battle with them.
The name according to some means "a mound of stones" or "rocky place" . According to a different version the island was named after the hero Mykonos, son of the King of Delos who was the son of Apollo.
The first inhabitants of Mykonos were Phoenicians but around 1000 B.C. Ionians from Athens conquered the island and settled down in its territory. Phoenicians and Athenians left their mark on the island but it was during the time of Alexander the Great when it evolved into an important center for maritime trade, reaching its peak during the Roman occupation.
Through the centuries Mykonos changed hands going from the Phoenicians to the Romans, to the Venetians during the Middle Ages, to the Saracens and finally to the Turks who dominated the area from the 14th century on.
During the 1821 Greek War of Independence against the Turkish rule, which ended with the liberation from the Turks in 1830, Mykonos, under the leadership of the Mykonian heroine Mando Mavrogenous, roused and participated actively in the war with a fleet of four ships.
After the establishment of the newly formed Greek State, the island's economy is revived. Local merchants become established in Constantinople, Alexandria, Smyrna, Marseilles, but the predominance of steamships against the traditional commerce of sailing ships, at the end of the 19th century, the opening of the Canal of Corinth in 1904, and World War I, lead Mykonian economy to a downturn.
Mykonians, like many other Greeks, left their island to find work in urban centers, like Athens and Piraeus, or even abroad. It was only after the mid-50s, with the development of tourism, that Mykonos started to regain momentum and its economy began its upward course.
The Cyclades are a region highly representative of the Mediterranean climate. Strong winds, intense and extended sun exposure, long rainless periods, and at the same time high humidity levels.
Adaptation of architecture to local conditions and to the region's natural environment are the main elements characterizing traditional Cycladic houses.
Flat roofs and cubic shapes provide protection from the strong Cycladic winds. Small openings in the houses' northern sides eliminate thermal loads and humidity. Stone walls and shady areas from dense foliage in the exteriors, achieve cooling. Whitewashed walls minimize the absorption of heat from the walls.
Even the distribution of houses' volumes, in relation to their exposure and the direction of the winds, is not coincidental. Interior yards, recesses, ledges, different heights, different types of semi-open spaces –verandahs, alcoves, semi-open entrances, all play an important role.
However, though similar at first sight, each one of the Cycladic islands maintains its own unique characteristics. These characteristics are tightly linked to each island's different historical course, its population's activities, its geological particularities, and, of course, the wealth of its soil. Santorini's caves, Naxos' and Andros' tower-houses, Tinos' pigeon-lofts, Antiparos', Folegandros' and Sifnos' castle-like settlements, Syros' neo-classical buildings, are just a few indicative examples.
Mykonos Town (Chora), the island's capital, will impress visitors from the moment they first step their feet on its ground. Bright whitewashed houses, sparkling under the glaring summer sunlight, set next to each other with an order of their own, cube-shaped in the traditional architecture of the Cyclades. Wooden window shutters, painted in the deep blue color of the Aegean Sea, wooden balconies packed with clay flower pots bursting with geraniums, bell towers of innumerable churches spreading out everywhere, a painting like a view of unbelievable beauty from the hands of an unknown, great master.
The narrow labyrinth-like streets, tile paved and whitewashed in their edges and in between the tiles, hold surprises for new visitors as they will come across many small chapels and grand, majestic churches, witnesses of the deep religious belief of the locals. In Chora's Kastro settlement, visitors will hold their breath at the unique architectural sight of Panayia Paraportiani, a cluster of five churches, declared a national monument.
But Mykonos Town holds more for everyone. Especially in Matoyianni, its most commercial street, where a multitude of quaint little shops, with brand name clothes, original jewelry, handicrafts, and souvenirs, will hold you captive for hours.
In Mykonos Town many bars, cafes, and restaurants you may sit down to enjoy a refreshment, a local specialty, or ouzo with mezedes, and just pass the time watching an unbelievably dense parade of people of all colors, sexes, nationalities, and styles, pass by.
Mykonos Town is also your base for discovering the rest of the island's beauties, its picturesque mainland landscape, its crystal clear water, golden or white fine sand beaches.
As the sun will start to slowly descend into the reddish turning Aegean Sea, Mykonos Town will start preparing for its transformation into the wild partying, bar hopping, all-night clubbing setting, of which party lovers have heard so much about and seek to experience.
Mykonos holds the promise of an unforgettable experience for all!
An interesting fact about Mykonos is that it is made mainly out of granite. If you have seen the famous Matt Damon movie 'The Bourne Identity', then you have got a glimpse of this beautiful island. It features towards the end where Jason Bourne locates Marie in a scooter shop, in Little Venice, which is on the island's west coast.
Could the presence of God be absent from paradise? Obviously not. And it is just as natural that there are a great number of places of worship, in the earthly paradise that Mykonos is. There are almost 800 churches and votive chapels on the whole island. Most of the chapels represent votive offerings of local people, expressing hope or gratitude for the fulfillment of some personal appeal.
Some of Mykonos' churches have been declared protected historical monuments by the Ministry of Culture. In Chora alone, there are more than 60 churches of great monumental interest.
Most of the island's churches are small, unadorned, single aisled and arched roofed constructions. In most of them, the exterior of their roofs is painted dark red. The majority are of the 17th, 18th and 19th centuries, though there are a few of the early Byzantine period.
Their interiors are ornamented with Icons, temples of elaborate fretwork, religious paintings, all representative and, in many cases, extremely interesting works of popular hagiography and ecclesiastical decoration.
The most impressive example of a unique and remarkable ecclesiastical monument of unprecedented beauty is the five churches cluster of Paraportiani. The two-level complex comprises of the churches of Virgin Mary -the church on the second level- and the churches of the ground floor, St. Sozon, Saints Anargyroi, and St. Anastasia. These three churches constitute the western part of the cluster, while St. Efstathios lies hidden in the interior of the same level.
Mykonos also has several Monasteries of interesting architectural design and ecclesiastical artworks, such as the 17th-century Monastery of Agios Panteleimonas, in Marathi, the great Monastery of Panaghia Tourliani (16-18th century), and the Monastery of Paleokastro (18th century) in Ano Mera, and the Monastery of Agios Georgios in Ambelokipos.
Always famous for its nightlife, Mykonos is still one of the liveliest places in Greece after dark and if the idea of a perfect holiday is a beautiful setting, great beaches with water-sports and lively nights, Mykonos should be on the top of everyone's preferences. Mykonos island has an international airport and regular ship service to Piraeus and most of the other Cycladic islands.
Mykonos is the paradise for a bar- hoppers and all-night party lovers, world-famous for its rowdy, wild parties, for its beach bars and its night club scenes. Its streets are literally packed with bars and clubs, permissive to all tastes, preferences, and moods. Visitors will get a kick walking through the maze of its narrow streets looking for the right spot. In its many music bars, one can get started for what is to follow in the night clubs that get going after 2 am.
The Scandinavian Bar, rated by some as the World's best bar, is considered a must.
Caprice and Galleraki, in Small Venice, are the ideal spots for an idyllic view of the sunset and night drinks, for those seeking a quieter approach.
Space the biggest in size club on the island plays mainstream music and attracts huge crowds.
Uno One of the oldest bars in Chora, perfect for watching the crowds passing by as you sip your drink sitting on the steps outside. You can even make a reservation for a bottle at these steps!
Celebrities Small but famous because of the celebrities it attracts.
La Notte Popular live Greek music, in an extremely crowded environment
Pierro's the very first gay bar to have opened in the island, a Mykonos trademark.
Cavo Paradiso, the most famous club, overhanging Paradise Beach, with a fascinating view. Things really get moving here around 3 a.m., in the sounds of music played by a famous guest D.J., the club features every year.
These are only a few of the many trendy nightspots on the island.
If you are not a fan of the wild, crowded, loud scene, do not worry. You will find something enjoyable to end a perfect day among the huge selection of cafes, traditional Greek tavernas, international restaurants, and fast food places.
Even walking around the streets of Chora at night, will be an experience by itself.
The restaurants and taverns can satisfy every taste: traditionally cooked seafood goes along with "nouvelle cuisine", ethnic and fusion kitchen, giving the promise of a gorgeous trip in taste.
A small low island with an area of 3,43 square kilometers, lying to the south-west of Mykonos. On the few surviving columns and the pieces fallen from the structures of Delos, the remains of its glorious past live on. This small island, rocky and barren, supported a flourishing economy and a thriving culture for centuries.
A majority of the ancients chose it as the place to set the myth of the birth of Apollo and this was undoubtedly connected to the fact that on Delos everything was flooded with light. The ruined city-state is one total embrace of light.
Chosen by the ancients as their religious center, the small island gradually became covered with temples, mansions, markets, stadiums, and shops: a large city which was not only a religious, but also a cultural and commercial center. The centuries rolled by. The period of its greatest glory was followed by an inevitable decline -wars, ruin, and destruction.
Today the island is a piece of land covered with ruins: fallen columns, sections of famous mosaics, a stadium, tiers of seats from a theatre, wrestling schools. Among this mass of ruins, five marble lions in a row still stand. These were the guardians of the sacred lake. They still gaze out to the east, waiting for the rising of the sun, the sun of Apollo its god.
Mykonos offers two, well-developed, beach campgrounds to choose from if you are a bit of a bohemian traveler or someone who enjoys sleeping a little closer to nature within a 'community' of like-minded travelers. Mykonos Camping extends out on a headland overlooking the sea, with Paraga Beach on the right and Paradise Beach a short walk to the left. Paradise Camping is located just a few meters behind the active Paradise Beach, known for its parties. Both of these popular camping 'communities' are nestled among trees on the south side of Mykonos Island.
Mykonos Camping and Paradise Camping offer shuttle bus transportation to and from the airport and ferry boat ports. Both campgrounds can be reached by taxi or rent a car – motorbike and there is frequent public bus service, but with a stop directly at Mykonos Camping available only during the busiest time of peak season. You are able to access other southern beaches via caique (boat) from both Paraga and Paradise beaches.
Camping is an alternative way to view and experience the island of Mykonos. You can risk waiting until you arrive in Mykonos, but it is wise to make reservations ahead of time, especially during July and August. Check with either campground to ask about pricing, amenities and what type of accommodations are available and choose what suits you.
Freedom and wild abandonment, these two things sum up the beaches of Mykonos. Mykonos beaches are a postcard come to life. There is something for everyone, whether looking for sun, sea or sand; you can find these things and more. A combination of stark white houses on the surrounding rocky, brown hillsides; a clear, blue sea; a bright blue sky, with the sun presiding over all of this make up the incredible colors of Mykonos beaches.
Mykonos nightlife can be whatever you want it to be and appears in many different forms. Greek night at a taverna, a movie beneath the stars at the open-air cinema, a piano bar – night club, chill-out lounges or a variety of bars, nightclubs and discos are among the many possibilities. Two years ago, Mykonos also started hosting cultural events in the town amphitheater.
Mykonos is an island that never sleeps and the fact is, for many who come to Mykonos, sleep is not much of a requirement. This island is not only known to many, the world over, for its party beaches, but also for its vibrant nightlife. After dark, Mykonos Town is electrically alive and you automatically get caught up in the vibe. Throngs of people stroll or parade up and down the harborfront and through the narrow streets in all stages of dress or undress. Mykonos exudes sex appeal; it's in the air all around you. The party atmosphere thrives not only indoors, but spills out into the streets and can continue till the sun is creeping into a new day.
Around the time of the bewitching hour, the bars, clubs, and discos start the music pumping and the nightlife starts to sizzle. Throngs of people stroll or parade up and down the harborfront and through the narrow streets in all stages of dress or undress. Mykonos exudes sex appeal. Sex is in the air all around you. The party atmosphere thrives not only indoors but spills out into the streets. Discover the gay bars/discos; the drag shows; the rock and dance clubs with DJ's playing current hits or music spanning the decades; a Greek music bar; a lounge or a cafe for conversation and a glass of wine. Roam from place to place until you find what suits you, then choose to be a participant or a spectator. Nightlife extends to some of the beaches too. You might want to head out for a special event, such as a Full Moon Party, a Bubble Party or to dance to a world-class guest DJ. Mykonos provides entertainment for young, old and everyone in between. Wherever you go, there is a mix of people and no one should feel out of place.
The ongoing party of Mykonos is one of the things that keep visitors returning year after year and attracts some of the newcomers. Tourism was originally built up by the hippie generation, the rich and famous and a large gay population, though the freedom of Mykonos continues to be the theme. Mykonos has a style that welcomes every one of all ages, attitude and sexual orientation; the beauty is that everyone co-mingles as one. The party hotspots change with the day and the time of the season, though you can be assured of a wild time every year from mid-July through the end of August, without fail, throughout the island. It is up to the individual to find or create the 'party' that suits your style. "Free your mind and the rest will follow…"
If you are in need of an adrenaline rush or just a break from laying on your sunbed to have a bit of fun, try the water sports offered on some of the beaches. Whether you are experienced or a novice, you can find a variety of water sport activities on Mykonos. Windsurfing, scuba diving, parasailing, water skiing, jet skis, towable tubes, banana boats and pedal boats (a little more time) are among the water sport activities available to you.
Mykonos Island has a windsurfing school and three diving centers that rent out equipment, in addition to providing instruction for those in need. Explore life under the sea or take advantage of the wind to skim across the blue waters of the Aegean to enhance your holiday memories.
To have a laugh and cool off while continuing to enjoy the summer sun or to try your hand at a new water sport, rent a jet ski, get a bird's eye view of the sea with parasailing or speed across the water on a towable tube or banana boat to indulge your playful side. Mykonos is about fun, sun and sea, so have some fun by heading to one of the beaches that offer water sports!!
If you are feeling that persistent urge for serious shopping therapy or would like to take care of your souvenir shopping list for family and friends back home, Mykonos offers an array of shops with something to satisfy even the most discriminating, cosmopolitan shopper. From trinkets to objects d'art, handmade clothing to designer label fashions, Mykonos shopping appeals to all budgets and desires.
Choose unique art from a gallery or a street vendor; exquisite, finely crafted, jewelry; household linens or clothing made from Greek cotton or wool; Greek ceramics or sandals; herbed olive oils and vinegars; the ubiquitous 'komboloi' (otherwise known as worry beads); or a blue eye (to ward off the "evil eye"); among an assortment of MANY other possibilities, to fill your shopping bags. Some Mykonos shops offer packaging and shipping for delicate, bulky or higher price tag items, so be sure to ask. While strolling the streets in the morning or evening (all shops are open seven days a week, but most close from 14:00 to 17:00 or 18:00) spend some time browsing to find treasures to take home with you. Many, fashion-conscious shopping aficionados, can't avoid picking up at least a few new pieces to add to their wardrobe while here on holiday.
There are mini-markets, greengrocers, butchers, kiosks, bakeries, a few small supermarkets in town and bigger supermarkets out of town, many pharmacies, a dry goods shop, bookstores, photo and electronics shops, and even a natural foods shop with organic products. So, have no worries, whether you forgot to pack the necessities or a camera, are cooking for a dinner party in your villa or want a newspaper written in your native tongue, there are shops to provide for a comfortable stay on Mykonos.
Whatever you might find, the perfect end to any holiday is to take a tangible reminder home to add to your lasting memories.
How to get to Mykonos Island
You can reach the island of Mykonos by boat, every day of the week, from one of the two mainland ports. Scheduled sailings are at least twice a day (morning and evening). For high-speed ferries or boats leaving from the port of Piraeus, travel time is approximately six hours by slow boat; three and a half by high-speed ferry. From the port of Rafina, travel time is approximately five hours by slow boat and two and a half by high-speed ferry. Scheduled sailings can be canceled due to high wind, so plan your holiday accordingly or go with the flow and spend an extra day at either end. In addition to the ferries, there are also smaller, faster catamarans, but those have fewer sailings and are canceled more frequently due to wind. An extra day spent in Greece isn't so bad, especially if it is on Mykonos!
For air travel, Mykonos has a modern airport that receives direct flights from most of the European countries and flights from the Athens airport (a flight time of approximately 25 minutes). In peak season, the Mykonos airport receives 3 to 16 incoming flights per day.
Mykonos has a good bus system, taxi service or you can rent a car – motorbike for travel around the island or to and from your accommodation. Cars are prohibited from the narrow streets of Mykonos Town (Hora) so, if staying in town your feet are the best mode of transportation.
You have two options to get to Mykonos, by airplane or by ferry from Athens.
By Air
If you want to get as fast as possible, you can also take a plane. Flight duration is only 35 minutes from Athens and the total cost depends on how early you have pre-purchased your air tickets. It is worth knowing that Mykonos airport accepts more than ten flights a day during the summer months and also serves charter flights. Mykonos Airport is 4 km away from Mykonos Town. Both Olympic Air and Aegean Airlines, during the summer, have daily direct flights from Thessaloniki. In the high summer season, there are also less frequent flights from Rhodes, Santorini, Crete (Heraklion) and Volos.  Also, many European airports have direct flights to Mykonos May to October.
By conventional ships or speedboats
Mykonos is 94 nautical miles southeast of the port of Piraeus and 74 nautical miles southeast of Rafina port. The boat trip from Piraeus is about 3 hours with high speed and 5 hours with the slowest ferry. Most of the ferries connect Piraeus to Mykonos from April to October. You can also get to the island of Mykonos, directly from the other Cycladic islands, Syros, Andros, Tinos, Paros, Naxos, Ios, Santorini and Crete. There are also a night ferries from Samos and Ikaria every day and less frequent from Milos, Sifnos, Serifos, Folegandros, Kimolos, Sikinos, Anafi and Thirasia. As coastal companies update the program weekly, there may be some inaccuracies with companies' online information. 
From the port to the town of Mykonos (Chora)
During the high season, there is public transport from the new port of Tourlos to Mykonos town, but the best solution is to take a taxi. You can walk from the new harbor to Mykonos town, but it will take about 45 minutes on a busy main street without a sidewalk.
Petros the Pelican, the Paraportiani, churches, monasteries and Cinemanto.
Police: (+30) 22890 22 716 
Tourist Police: 22890 22 482 
Port Authority: 22890 22 218 
Health Centre: 22890 23 998 / 23 994 
Mykonos Town Hall: 22890 22 201 / 23 988  
Centre of Public Services: 22890 28 621
Centre of Telecommunications (O.T.E.): 22890 22 499 
Post Office (EL. ΤΑ.): 22890 22 238 
Bus Station:  22890 23 360
Taxi station: 22890 23 700 / 22 400 
National Water Supply & Sewage Corporation: 22890 23 494 
National Promotion & Development Corporation: 22890 27 190 / 22 615 
Hoteliers Association: 22890 24 760 / 24 540 
Union of Room & Apartment Rentals: 22890 24 860 / 26 860 
Mykonos Archaeological Museum: 22890 22 325 / 79 301 
Delos Archaeological Museum:  22890 22 259 
Mykonos Folcloric Collections: 22890 22 591 
Aegean Maritime Museum: 22890 22 700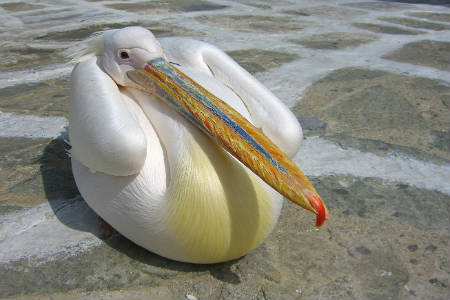 Petros the Pelican
An old celebrity of the town's waterfront, "Petros" has been the mascot of Mykonos for over half of century. After his death, the locals elected a successor to carry on his legacy until today. In 1995, another pelican fell to the island and so today there are three pelicans in Mykonos that have won the hearts of the island's inhabitants and visitors.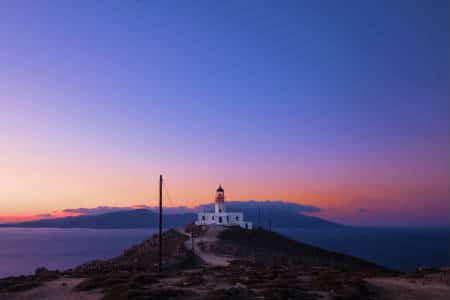 Delos
At a distance from cosmopolitan Mykonos, Delos is the holy island of ancient Greece. It is the birthplace of Apollo and Artemis, according to mythology. But what makes one of the country's most important archaeological sites is that it is the only one in Greece where private homes have been found in a wonderful state.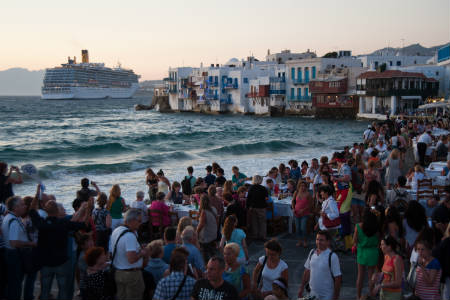 Little Venice
Perhaps the most photographed and charming area of ​​Mykonos, "Little Venice", is a picturesque neighborhood built on the coast that reminds Venice very much. Elegant, beautiful and colorful houses with windows, stairs and wooden balconies, literally on the sea, give the visitor a sense of being in the famous Italian city. You can definitely enjoy one of the most beautiful sunsets in Greece.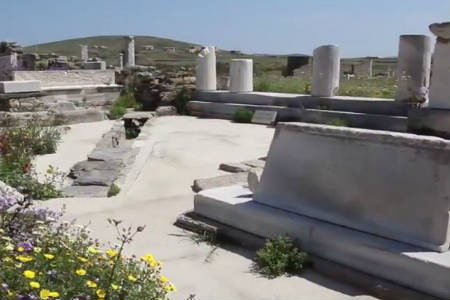 Agora of the Italians
This Agora is situated near the commercial harbour of Delos. As it was used by the merchants from Italy, it is called the agora of Italians. It is also called the agora of Competialists or Hermaists, because the merchants gathered here practiced cult for Lares Compitales and Hermes. This episode shows the close relationship between Delos, Athens and Rome in the later half of the second century.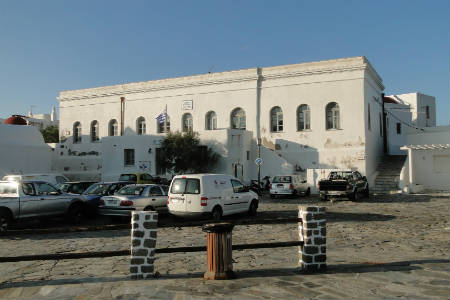 Town Hall
The Town Hall was built in order to be used as the Seat of the Russian General Consul of Archipelago. Later it came under the authority of the jurisdiction of Community, in order to accommodate up to today the offices of Municipality of Mykonos.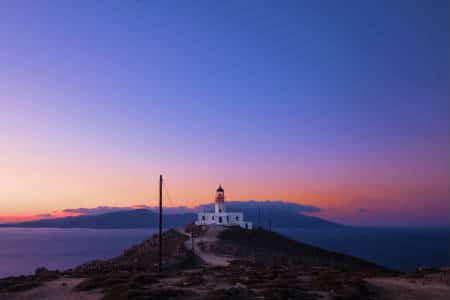 Lighthouse
The Armenistis Lighthouse stands as a tribute to the great maritime history of Mykonos while remaining fully functional today. Its strategic position offers scenic views of the surrounding areas and is well worth visiting to get a sense of the island's fascinating history and enjoy its amazing beauty.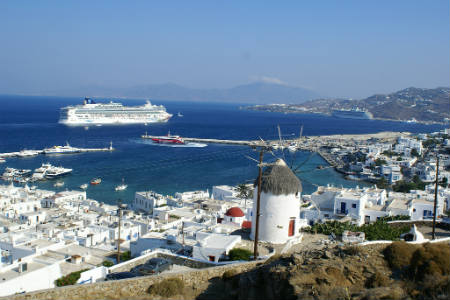 Mykonos Town
Between Kastro and Skarpas is the picturesque neighborhood with its colorful balconies and the wooden "bountias" hanging - above all - above the sea. You can definitely enjoy one of the most beautiful sunsets in Greece.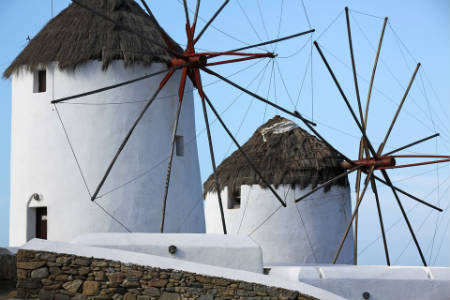 Windmills
A trademark of Mykonos, its windmills, are internationally recognizable, thanks to the countless photos and postcards of the visitors. They stand on a hill, in the neighborhood of Kastro in Chora, and are seven three-storey buildings of cylindrical shape, with small windows and a conical wooden roof.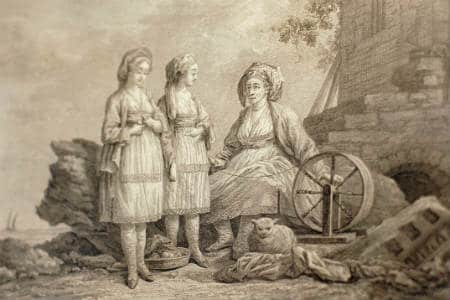 Folklore Museum
The oldest house on the island has a rich collection of 19th-century furniture, jewelry, ceramics embroideries, marble sculptures, tombstones and a variety of other trinkets. The museum also pays tribute to Mykonos' traditional nautical roots with models of 19th-century Mykonian ships, maps and an anchor and canons used during the Greek War of Independence.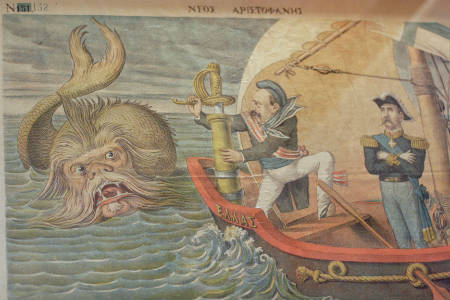 Aegean Maritime Museum
The Museum opened its doors to the public in 1985, having as its primary objective the promotion of maritime history and commercial navigation of the Aegean islands. The Aegean Maritime Museum is housed in a traditional Cycladic building, at Tri Pigadia.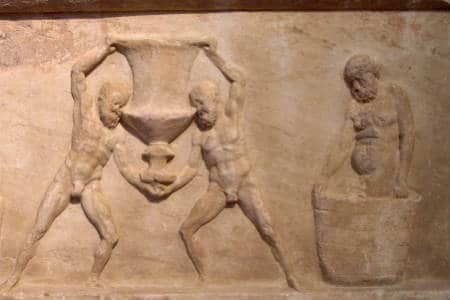 Agricultural Museum
Old tools and machinery are displayed in one of Mykonos' famous windmills and, located above the main town of Chora in Ano Myloi offer an amazing view of the town and sunset. Bonis Mill has been preserved to its original condition so the visitors have full access to all three floors of the building.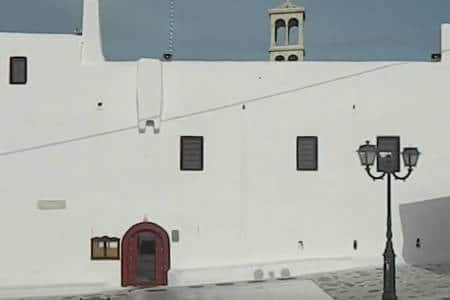 Monastery in Paliokastro
It is a 18th-century monastery, a typical example of the monastery architecture of the Cyclades, located to the north of Ano Mera. Its name owes it to the homonymous neighboring hill "Paliokastro". It is based on prominent remains of ancient fortifications. Panagia Paleokastriani is a female monastery.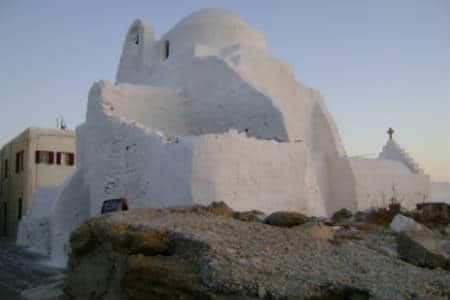 Chapel of Panagia Paraportiani
Among the more than 600 churches on the island, Panagia Paraportiani occupies a special place because of its unique architecture. It consists of a two-storey complex of five churches, with four being the base and the fifth standing like a dome. The temple was built in the 16th century.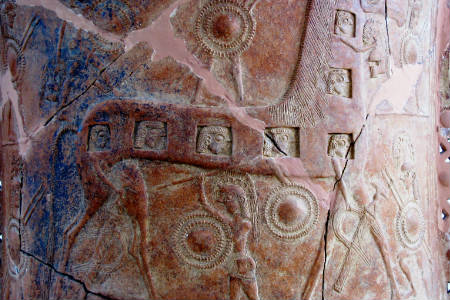 Archaeological Museum of Mykonos
The Archaeological Museum of Mykonos was built in 1902, specifically to house the finds from the "Catharos Cave" of 425/426 BC, revealed in 1898 by Dimitrios Stavropoulos in Rhenia. It is one of the oldest museums in Greece.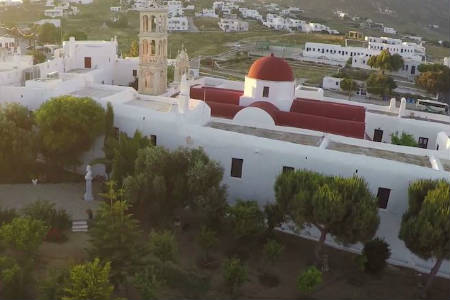 Monastery of Virgin Mary in Tourliani
It was built in 1542 in a place where there was an old church of the Eisodia Panagias. In 1757 - 1767 the monastery, dedicated to the Assumption of the Virgin Mary, was renovated by the hieromonk Ignatius Bassoulas and acquired its present form. The monastery collection includes many old tools and important post-Byzantine icons.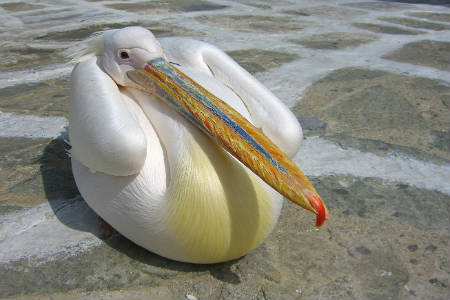 Petros the Pelican
An old celebrity of the town's waterfront, "Petros" has been the mascot of Mykonos for over half of century. After his death, the locals elected a successor to carry on his legacy until today. In 1995, another pelican fell to the island and so today there are three pelicans in Mykonos that have won the hearts of the island's inhabitants and visitors.