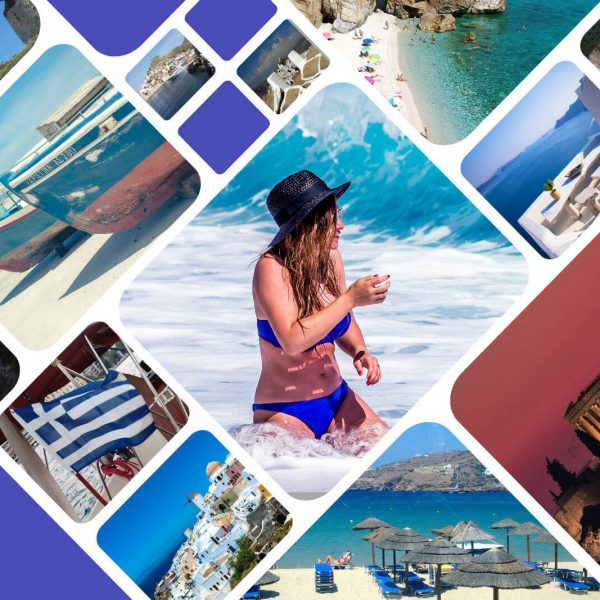 Planning to travel to Greece? Get to know the country's climate first. Read on to discover what to expect from the climate in Greece, the best time to visit, and tips on what to pack.
Climate, Seasons, and Average Monthly Temperature
Everything You Need To Know About the Climate in Greece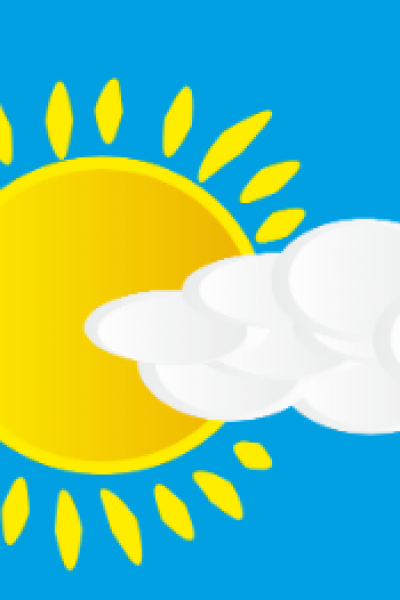 Let's dive into the geography and climate of Greece to determine the best time to visit.
Geography and Climate Zones in Greece
Greece has a Mediterranean climate with warm, sunny summers and mild winters. The Mediterranean climate provides warm and sunny days, while the coastal breeze cools down the evenings. The climate in Greece is perfect for those who enjoy sunny weather and outdoor activities. Spring and autumn are great if you want to avoid crowds and enjoy the mild weather. Winter is the least popular season, but it's a great time to experience Greece's festive traditions and winter landscapes.
Greece's geography plays a significant role in its climate. The country is made up of a mainland and thousands of islands, each with its unique climate. Due to its geographical position, the country experiences a variety of climate zones. Greece has a diverse landscape that ranges from mountains to coastal areas. The northern part of Greece has a continental climate, with cold winters and warm summers. This diversity creates different climate zones across the country. The mountainous areas have a colder climate than the coastal areas.
However, Greece's climate goes beyond sunny skies, and we are here to present an extensive guide to the country's weather patterns and conditions.
Greece can be divided into 3 climatic zones:
Temperate climate zone (central Greece, north and northeast of the country). It is characterized by a contrast between summer and winter temperatures.
Typical Mediterranean climate zone (southern part of the country and islands). Summer is hot and dry. Winter is warm and humid.
Separate alpine climatic zones. They are found in the mountains of mainland Greece, the Peloponnese, and even on some islands. In summer it is much cooler here than on the coast. And in winter, real snowy winters come to the mountains, and the temperature drops below zero.
In Greece, there is no pronounced spring and autumn. Therefore, it is advisable to distinguish two seasons:
Cold and rainy (from mid-October to March);
Warm and dry season (from April to the first half of October).
In January and February, the temperature is around +5..+10 °C on the coast and 0..+5 °C in the central part of the country. In the mountains, stable sub-zero temperatures can be observed. In March it gets much warmer. And with the advent of April and May in Greece, everything begins to bloom and smell sweet. The sea is gradually warming up. The first tourists arrive. The hottest days in all regions of the country fall in July and August. Of course, Greece is not the Sahara. However, the temperature records during the summer months are impressive. Daytime highs exceed 40 ° C, and in terms of the degree of warming up of seawater, Greek resorts can easily compete with Asian ones in the high season.
Warm and sunny days are a kind of hallmark of Greece. There are about three hundred such days in a year. There is practically no rainfall in summer. But in the winter months, it can rain for several days in a row. Heavy snowfalls fall in the mountains. Snow cover on some peaks lasts almost until the summer. Sometimes snow falls in the coastal regions of the country. The Greeks perceive such a "gift" of nature as a real apocalypse. Houses, cars, road services, and the wardrobe of the Hellenes are simply not ready for such upheavals.
When is the best time to visit Greece?
The peak of the swimming season in Greece falls in July – August. During these months, the local beaches are not overcrowded. Vacation and accommodation prices are at their peak. But vacationers have the opportunity to enjoy a truly warm sea.
In May – June, September – October there are fewer tourists on the beaches of Hellas. You can always find a tour at an attractive price. True, be prepared for the fact that the sea can be quite cool, especially in early May and late September.
From November to March there are few tourists in Greece. Many attractions and entertainment do not work at all during the winter months. Domestic travel companies rarely offer package tours to this country during the cold season. But in vain. In winter in Greece, there is something for a tourist to do. Firstly, you can safely explore the tourist attractions without too much fuss and noise. Secondly, there are many ski resorts in the country. Few people in Europe think that the snow-capped peaks of mountainous Greece are also suitable for winter holidays. The ski season is in January and February. The third attraction of the country in the cold season is the thermal springs and spas. Equipped recreation areas are mainly concentrated in the Macedonia region.
Important! If you are going to Greece in winter, check if the hotel you have chosen is prepared to receive tourists during the cold season. Winters in Greece is short. Therefore, apartments and hotels are poorly adapted to the cold. It may be quite cold in your room.
Beach season on the islands
The beach season starts in May, with an average daily temperature of 20°C. The weather in Greece in July and August is considered ideal – during these peak months, the thermometer rarely drops below 22 ° C, even at night. Fortunately, the islands are visited by cool sea breezes that blow from the north and northwest. From mid-May to mid-September, the climate is very dry, and in July and August, there is no precipitation at all.
Winter weather on the islands
Winters are mild and humid, with temperatures typically ranging from 3°C to 12°C, although on a sunny day, it can rise to 20°C. December is the rainiest month of the year, at which time there are often strong storms in the Mediterranean Sea, they bring inclement weather for several days, with strong winds and heavy rain. However, since most of the precipitation falls in heavy rains, there may be many more sunny days ahead, and then the winter will be very pleasant and quiet.
 Mainland weather
Mainland Greece has a slightly different climate: it is less influenced by the sea than the islands, influenced by Europe, and has many micro-climates due to the influence of the mountains and the prevailing winds. Temperatures are more extreme here compared to insular and coastal regions. For example, the weather in Greece in July is very hot – in Athens, the thermometer reaches 40 ° C, and once crawled up to 48 ° C. It has cold winters, temperatures can drop below freezing, and snow can fall in low-lying areas, although this is not common.
Weather fluctuations occur throughout mainland Greece – in eastern Greece and Athens it is much drier, and in the north and west the climate is more humid. In the north and east of the country, there is a continental climate, with large temperature differences. In the north of the country, the average temperature is usually about 5°C cooler than in the coastal regions during winter.
 Mountain weather
Greece is one of the most mountainous countries, more than 4/5 of the country consists of mountains or hills. The highest in the country is Mount Olympus (2917 m). In the mountains, the weather is very different from the lower regions of Greece, the alpine climate reigns here: the higher, the colder, and more clouds and precipitation. The weather in the mountains is unpredictable. Many peaks are covered with snow for several months of the year, and there are several ski resorts. The mountainous climate prevails predominantly in the high mountain ranges of mainland Greece, but similar weather also occurs in the high mountains of Crete.
Rainfall in Greece
The amount of rainfall Greece receives also varies by location and time of year. The mainland and mountainous areas receive more rain than the islands and coastal areas.
What clothes to take with you?
Summer in Greece, especially during the high season, is very hot. Bring clothes made from natural fabrics, hats, and sunglasses. In May – June, as well as in September, in the evening you may need a light blouse or even a sweater. In April and October, a light raincoat or jacket will be relevant.
If you are planning a trip to Greece from the end of October to March, take warm autumn clothes and an umbrella with you. The weather at this time of the year is extremely unpredictable. So be prepared for temperature fluctuations. Warm and summer-like sunny days can be replaced by real winter with snow even in Athens. And if you are going to the mountains, feel free to put on a winter down jacket and appropriate shoes. However, Greece is famous for its fur products, so if you have a certain amount, enterprising Greek fur traders will not let you freeze.
Here are some essential items to include on your packing list:
• Sunscreen and sunglasses for protection from the strong Mediterranean sun
• Lightweight, breathable clothing for the hot summer months
• Comfortable walking shoes for exploring cities and ancient ruins
• Swimsuits and beach towels for seaside activities
• A light jacket or sweater for cooler evenings and the winter months
• Ski gear and warm clothing for winter sports enthusiasts
Best Places to Visit in Summer
Santorini: This stunning island is famous for its breathtaking views, beautiful beaches, and picturesque villages.
Mykonos: Known as the party island, Mykonos attracts visitors who want to experience the vibrant nightlife and upscale restaurants.
Athens: While Athens can be scorching hot in the summer, it is a must-visit for history buffs who want to explore the ancient ruins and iconic landmarks.
Best Places to Visit in Autumn
Meteora: The rock formations in Meteora are stunning during the fall season, with the changing leaves providing a beautiful backdrop.
Nafplio: This charming coastal town is an excellent destination for those looking for a quieter, more relaxed atmosphere.
Zakynthos: This beautiful island boasts golden beaches and clear waters, perfect for a relaxing autumn getaway.
Best Places to Visit in Winter
Athens: The Greek capital is an excellent destination for history buffs, with its museums and ancient sites offering a glimpse into the country's rich history.
Thessaloniki: This vibrant city in northern Greece boasts a lively food and music scene, making it the perfect destination for those looking to experience Greek culture.
Pelion: This mountainous region is a popular destination for winter sports enthusiasts, with its ski resorts and picturesque villages.
Climate Change in Greece: Understanding its Impact on the Environment and People
Heatwaves: Greece is experiencing more frequent and intense heatwaves, which are not only uncomfortable but also dangerous for human health.
Sea-level rise: Greece's coastline is vulnerable to sea-level rise, which can cause flooding and erosion. This can have severe consequences for coastal communities, infrastructure, and tourism.
Wildfires: Greece is experiencing more frequent and severe wildfires due to the hotter and drier conditions.
The average temperature in the resorts of Greece (air / water) С°
Weather in Greece by months